Autism Career Pathways is excited to announce we will be hosting the first 'Autism Goes to Work' job fair!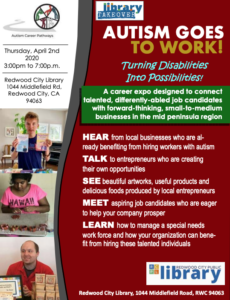 'Autism Goes to Work' is the very first Job Fair in the San Francisco Bay Area for people with differing abilities.
This huge event will connect small businesses with local community members to explore full inclusion employment. This event will spotlight (feature) celebrity speakers, products, goods and services with lively music, all created by adults with special needs.
The event will be set for April 2nd, 2020 from 3:00pm – 7:00 pm to celebrate World Autism Awareness month.
Join us to plan for this event to bring our community and small businesses together!